MATERIAL FOR MEDIA

THE DRAGONTAIL BUTTONHOLE
Brief "Log-Line" description.
A young Czech family's love and resilience are severely tested on a dangerous and chaotic journey across Europe as they flee Nazi-occupied Prague on the eve of WWII.

A short "review summary" of the story.
In early 1938, Willy Kohut, a 26 year-old Jewish merchant opens Anglotex in Prague determined to create a successful store selling luxury British fabrics for men's suits. He is an accomplished pianist and linguist, married to Sophie, an attractive 23-year old Hungarian woman used to a comfortable life. They have an 22-month old boy, Pavel. Willy focuses on running his business, minimizing the Nazi threat on Czechoslovakia's borders. Like so many other citizens of Prague, he's confident that the large Czech army, one of the most modern in Europe can face down the Germans. But, after the Munich crisis when the Sudeten part of Czechoslovakia is handed over to Germany, Willy comes to his senses and prepares to leave the country with his family. He looks for a buyer for Anglotex and—just-in-case—acquires counterfeit Hungarian passports, essential for traveling outside the country. Too late! On March 15th 1939, the Germans occupy Prague. On the very same morning, while Sophie is out shopping, Willy is arrested by an advance Nazi unit. He is suspected of being a British spy in possession of radio transmitter communication codes. He protests his innocence to no avail.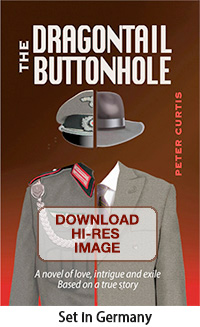 Willy has disappeared and Sophie's world turns upside down. She takes charge of the store, keeps her home going and tries to find her husband. For four weeks she bravely visits the Abwehr (German Military Intelligence) and Gestapo offices and finally discovers that Willy is holed up in Pankrác prison. Realizing that the document supposedly containing British espionage codes is simply an inventory of fabrics shipped from England, Sophie persuades the German prison commandant that Willy is innocent. Starved, beaten and injured, Willy recovers slowly at home. As he improves and starts planning their escape, another disaster strikes. Under a new law he is called to the bank and forced to sign over his store and contents to an Aryan Czech merchant. Suddenly poor and fearing more danger, the Kohuts pack jewels, bonds, cash and clothes and head for Budapest using the false Hungarian passports.
In Budapest they pay a smuggler to drive them across Germany to Holland. The car journey is full of arguments and complications, and in the middle of Germany the smuggler dumps them, driving off with their valuables. Down to one suitcase, they travel by train and truck through Nazi Germany posing as Hungarians, trying to avoid detection. They finally board a train for France but at the German frontier they are unmasked as Jews and brutally interrogated. In exchange for a sexual favor, the border officer allows the family back on the train. They arrive in Paris with only 500 francs loaned by a French couple who shared their compartment on the train. Although the family is free and safe their future is uncertain. Germany threatens to invade Poland and Willy and Sophie have both changed, Willy wants to get to England and somehow get revenge on the Nazis. Sophie has gained in self-reliance and courage but she feels that she and Willy have grown apart. How they will manage their immediate situation in France is anyone's guess.
The Dragontail Buttonhole was the trademark of a Jewish master tailor in Prague.
---

CAFÉ BUDAPEST
Brief "Log-Line" description.
CAN THE KOHUT FAMILY OUTRUN THE NAZI JUGGERNAUT? A penniless refugee family arrives in Paris on the eve of WW ll after escaping Nazi-occupied Prague, desperate to find a way to England.

A short "review summary" of the story.
July 1939. The Nazis occupy Prague. After a terrifying and convoluted escape after his release from prison, WILLY KOHUT, a Jewish clothier, his wife SOPHIE and their 3 year old son PAVEL arrive in Paris, battered, exhausted and penniless. WILLY swears revenge against the Nazis and the man who betrayed him in Prague. He is also determined to join his parents in London. Sophie wants is to raise her son in safety and peace. The KOHUTS'immediate challenge in Paris is survival: food and somewhere to sleep. They also fear internment in a refugee camp. Tensions between them smolder until they come upon the Café Budapest. The kindly old baker and his wife who own the café offer to employ SOPHIE. WILLY, in a desperate move to earn money and engineer an exit strategy from France, enlists in an army of 9,000 exiled Czech soldiers under French command. He is sent to the Mediterranean coast for basic training where he comes across the man who denounced him in Prague. He tries to kill him but fails.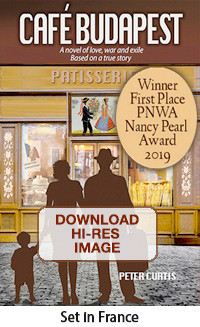 Back in Paris, PAVEL becomes more difficult to handle. SOPHIE, lonely and stressed, descends into a depression. To give her relief, the Café owners arrange for PAVEL to live in a residential kindergarten out in the countryside. The Allies declare war on Germany and the real fighting begins in Northern France. Pavel falls ill with a neck abscess. Distraught, SOPHIE rushes him to a clinic in Paris for surgery. Paris is in chaos, the city empties as the Germans destroy the French northern defenses. SOPHIE takes the next train south with the still weak PAVEL. In a small village close to WILLY's camp they rent a room in a cottage owned by a gypsy woman. The Germans are poised for total victory. The French troops retreat and the British evacuate their army from Dunkirk. In the south, the Czech army-in-exile evacuates 11,000 soldiers and refugees on to small British ships. WILLY and SOPHIE, again separated, do not sail on the same ship. Arriving in England six days later WILLY faces a dilemma. He is desperate to reunite with SOPHIE, PAVEL and his parents, but also wants to keep on fighting the Nazis, this time with the British. Still in Gibraltar, SOPHIE and PAVEL transfer to a liner, part of a convoy that will take 17 days to arrive in England, zig-zagging out into the Atlantic and back. She fears she may never see WILLY again. But even if they are able to reunite she thinks their marriage may not last much longer. The KOHUTS' dream of survival, safety and a new beginning is on hold.
---

ADDITIONAL MATERIAL