Peter Curtis' excellent novels follow the dramatic journey of the Jewish Kohut family from Nazi-occupied Prague in 1939—a masterful description of refugee life under the threat of war.
Helen Szablyahj. Honorary Consul General of Hungary.

Through his characters and descriptions Curtis vividly evokes the atmosphere and stresses of those times, assisted by his firm grasp and weaving of historical facts.
Jaroslav Bouček. PhDr.CSc,
Military Historian, Prague

In Café Budapest, there's a poignant and arresting precision in Curtis' descriptions that make events from 80 years in the past feel immediate. Indeed, there's not a wasted word to be found in the smoothly paced text.
Kirkus Reviews
Peter Curtis has created an imaginative work based on true events, in which the young Kohut family escapes the Nazi occupation of Prague and embarks on an odyssey through Germany and France to England—a journey that forever changes their lives.
THE DRAGONTAIL BUTTONHOLE

This novel tells the story of the devastating impact of the Nazi occupation of Prague on a young family. Willy Kohut, married to beautiful Sophie and father to two year old Pavel, sells luxury British suit fabrics. After his arrest and release by the Gestapo, they abandon their home, risking a journey through Nazi Germany to find freedom in the west. Their route is uncertain and erratic, marked by violence, despair, courage and quirks of fate.
The dragontail buttonhole is the trademark of a Jewish master tailor in Prague.
CAFÉ BUDAPEST
After a perilous journey from Prague, the penniless and exhausted KOHUT family—Willy, Sophie and Pavel—reach Paris. They are desperate to find a way to join relatives in London but with Germany threatening to invade Holland and Belgium, routes across the Channel are blocked. France starts to mobilize her army and strengthen defenses. The Allies declare war on Germany. Hoping to earn some money and find an escape route, Willy signs up with the reconstituted Czechoslovak army based in the south of France, under French military command. Sophie, still with Pavel in Paris finds part-time work at CAFÉ BUDAPEST, run by an old Hungarian baker and his wife. A few weeks later, Pavel and Sophie flee south only to be swept up in the panic when France surrenders. In an emergency evacuation, the Kohut family along with thousands of Czechoslovak soldiers and refugees are evacuated by the British Navy to Gibraltar. Britain faces the Axis powers alone. The future is uncertain.
I was born in Kosiče in Eastern Slovakia. Later, as a child in England I was enthralled by books like Treasure Island, King Solomon's Mines and The 39 Steps. I dreamed of writing tales of adventure.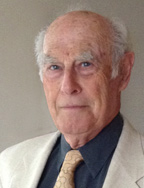 As a young man, I trained at Guy's Hospital, London, specializing in joint and back problems. But when I found that people's lives were more interesting than inflammation I turned to family doctoring in the English countryside and began writing about dramatic or amusing incidents in my practice. Some of my short stories were published. The years passed and I moved with my family to the University of North Carolina.
As my family elders and parents passed on, I inherited their photographs and documents and began to piece together the family's Slovak history. They had been the enthusiastic citizens of a dynamic democratic country, Czechoslovakia, until it was swallowed by Germany during the great and tragic dislocation of WWII. What they went through moved me to write an adventure story close to my heart. My family now lives in Seattle, WA
EVENTS

MAY 19. CAFE BUDAPEST. Reading/Talk on Saturday,3 pm At FRIDAY AFTERNOON TEA. 4228 Stone Way N, Wallingford. Seattle

MAY 28, CAFE BUDAPEST. Turning family history into fiction. Reading/Talk at 10.30 am. University House,4440 Stone Way N. Wallingford,
Seattle

MAY 30.CAFE BUDAPEST.Reading/Talk at 3pm. Merrill Gardens. 5300 24th Avenue NE. Seattle

JUNE 27, CAFE BUDAPEST. WRITING A FAMILY STORY INTO FICTION. 7pm. University Bookstore.4326 University Avenue NE.